By Guyana Times,
The list of alleged migrant voters in the possession of the Guyana Elections Commission continues to be debunked. In an interview with this publication, 30-year-old Kaminie Singh expressed shock at the allegations against her, since she has not left the country in over five years.
Kaminie Singh's name appears on the list APNU/AFC submitted to GECOM, on the basis that those voters were out of the country but yet voted. GECOM, in turn, received confirmation from Police Commissioner Leslie James that 172 of those persons were indeed out of the country.
According to Singh, however, the last time she left Guyana was back in 2014, when she travelled to the United States. She confirmed that she was present and voted on March 2 in person at the Cornelia Ida Nursery School, West Coast of Demerara (WCD).
"I was in the country and I voted on that day…Cornelia Ida Nursery School, that's where I voted. I don't know [why they'd say] I was out of the country, but I did travel in 2014 to the United States. That was the last time I travelled," Singh said on Tuesday.
This publication was also shown Singh's passport details, confirming the trip to and from the United States in 2014.
"I stayed in New York, a little less than three weeks. And I did return, I've been living in Guyana since then. I got married, had a family, family business, I am working at a school," she also emphasised.
Meanwhile, another voter whom APNU/AFC claimed migrated, Nishani Bissessar, presented an Affidavit of Existence and Presence on Tuesday to attest to her physically voting. She denied the claims, contained in the list of 'migrant' voters, that she was out of the country.
"On March 2nd, 2020, I presented myself to Vergenoegen Nursery School, which I had identified through GECOM advertisements, as the polling place where I was to vote. I used my identification card to identify myself and I voted. I complied with all that GECOM asked of me before, during and after I cast my ballot," she said.
Meanwhile, Syndey Douglas Jones, who was also listed as as migrated has also confirmed that he was in Guyana on Elections Day and voted at Diamond, East Bank Demerara.
The 75-year-old on man on Tuesday was in the presence of his nephew where his identifcation card was displayed.
Additionally, Kimbelie Karishma Raghunandan, also confirmed her presence in Guyana on Elections Day where he voted in person.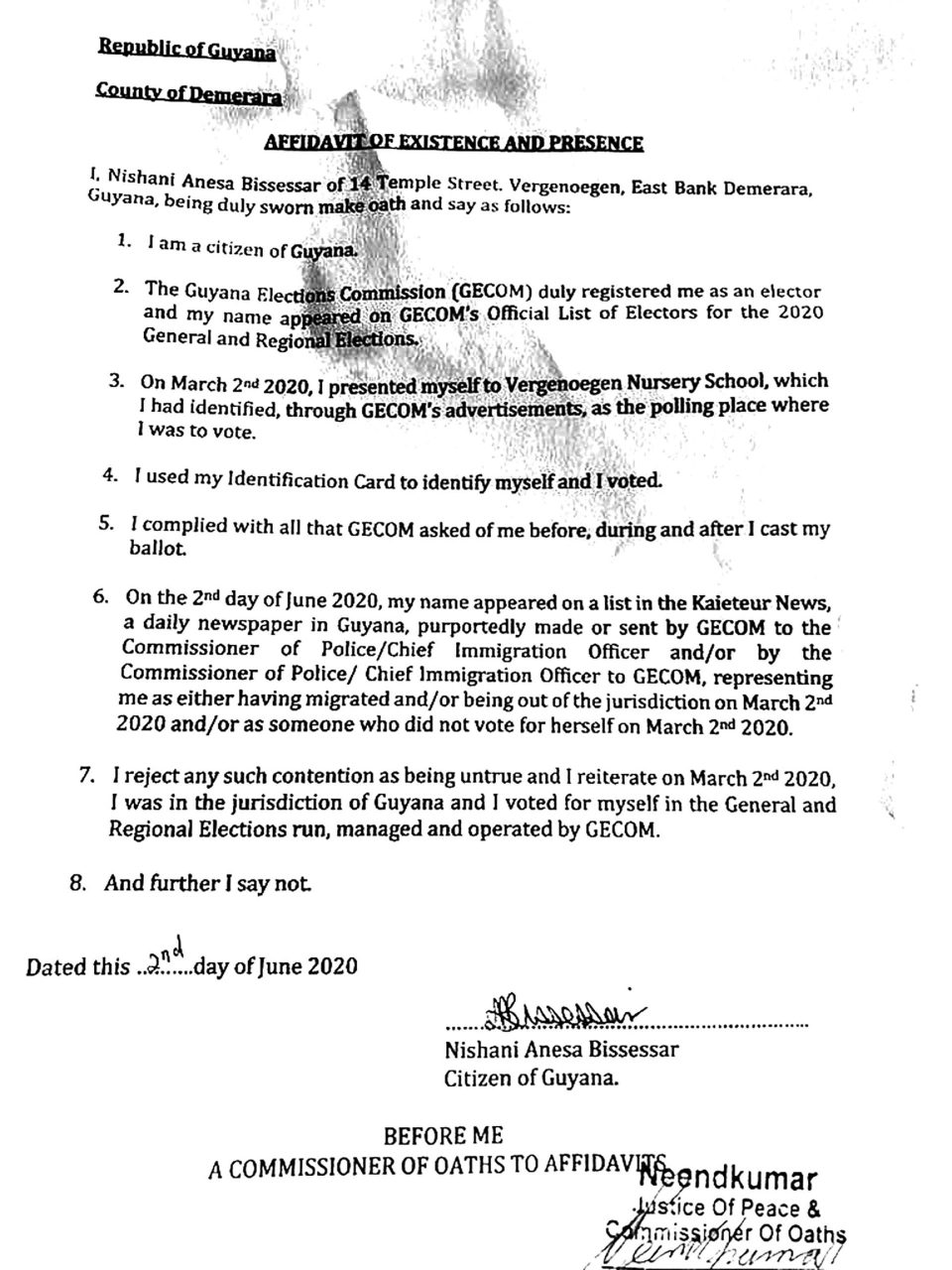 These confirmations come just a day after Compton Bacchus and Amos Bhola of Region Two (Pomeroon-Supenaam) both denied the allegations that they were migrant voters.
The publication of the list has led to a number of other persons taking to social media disputing the claims they were out of the country.
In a widely criticised move, GECOM Chair, Retired Justice Claudette Singh had written to Police Commissioner Leslie James, in his capacity as Chief Immigration Officer, to have him verify whether those on the list were out of the country.
At this time, however, there is no word on whether ballots were issued for these individuals or whether they voted via proxy. For instance, APNU/AFC had previously claimed that a deceased elector had voted.
Further checks had revealed, however, that the woman was never issued a ballot on Election Day. In addition, GECOM, through its Public Relations Officer, Yolanda Ward, admitted that no checks were made on the names to see if ballots were issued.
The main opposition party, the People's Progressive Party (PPP), has labelled this as a fishing expedition that APNU/AFC has sent GECOM on. According to them, this is all part of the coalition's "nefarious" political agenda of delaying the recount.
"We wish to highlight that a political party, APNU+AFC, not the Government, was provided by the Commissioner of Police/Immigration Department with the immigration records of citizens without their consent, which APNU+AFC is using for its nefarious political agenda. The matter is compounded by the Commissioner of Police purporting to verify the very information that he or his servants/agents supplied to that political party."
The party added that it is already on the public record that APNU/AFC is concocting these allegations. "One would recall a couple in Berbice who are in Guyana and voted for APNU+AFC, but APNU+AFC claimed that those persons were overseas on Elections Day. This issue was fully ventilated in the Kaieteur News," the party said in a recent statement.
According to the party, they have found hundreds of cases where persons who APNU/AFC claimed were out of the jurisdiction but voted, were, in fact, present in Guyana at the time of the March 2 General and Regional Elections.
The media itself has carried several such exposés, with APNU/AFC claims even being denied by a Berbice couple, Shirley and Aubrey Nicholson of Kortberaadt Village, who said that not only were they in Guyana on Election Day, they voted for the coalition.
Photo: Kimbelie Karishma Raghunandan displaying her national identification card